---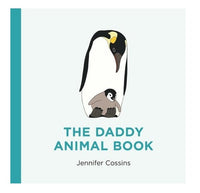 Did you know that a daddy gorilla is called a silverback and a baby gorilla is called an infant?
Or that a daddy turkey is called a gobbler and a baby turkey is called a poult?
An adorable and informative picture book about daddy animals and their babies that is a perfect new dad gift.

Jennifer Cossins is a Children's Book Council of Australia award-winning artist and writer with a passion for nature, the animal kingdom and all things bright and colourful. A born and bred Tasmanian, Jennifer also designs homewares, textiles and stationery, which she stocks in her store in Hobart, Red Parka.
15.5cm x 15.5cm
Hardcover