---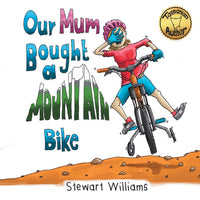 The sequel to 'Our Dad Bought a Mountain Bike' by Tasmanian author Stewart Williams. 
The story starts with our stubborn Mum who thinks she can learn all about mountain biking by reading books and, most importantly, without any help from our dad! It doesn't go that well… to start with anyway. 
A great, fun read for any mountain biking family.
8.5 x 8.5 inches, paperback, 38 pages