---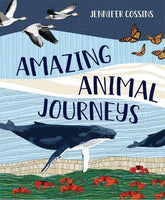 A beautifully illustrated title chock-full of fascinating animal facts from our bestselling, CBCA award-winning Tasmanian children's author/illustrator, Jennifer Cossins, that focuses on 25 animal species from Australia and around the world with intriguing migration journeys.

Did you know that Arctic terns have the longest migration of all birds, flying from the Arctic to Antarctica and back each year? Or that the wildebeest migration in east Africa is so vast it can be seen from outer space?

Come along on these amazing animal journeys! Perfect for readers aged 7+ who delight in learning about the animal kingdom and the world around them.

About the author

Jennifer Cossins is a CBCA award-winning artist and writer with a passion for nature, the animal kingdom and all things bright and colourful. A born and bred Tasmanian, Jennifer also designs homewares, textiles and stationery, which she stocks in her store in Hobart, Red Parka.
ISBN: 9780734420473
Format: Hardcover
Language: English
Number Of Pages: 64
Published: 27th October 2021
Publisher: Lothian Children's Books
Dimensions (cm): 28.7 x 23.8  x 1.1
Weight (kg): 0.56
Edition Number: 1